WELCOME TO
AMCHAM HANOI
ABOUT US
The US - Vietnam business summit
read more
Congratulations to our newest group of AmCham Scholars
2023 Scholars Program
learn more
SHOULDN'T YOU BE A MEMBER OF AMCHAM?
JOIN US
BENEFITS & SERVICES
don't settle for low quality - go with proven experience
let amCham plan your company event
read more
The American Chamber of Commerce in Hanoi is a vibrant organization that plays a key role in the commercial life of Vietnam. The Vietnamese economy is at the heart of the fast-growing Southeast Asia region. AmCham exists to help our members find their fair share of this burgeoning marketplace.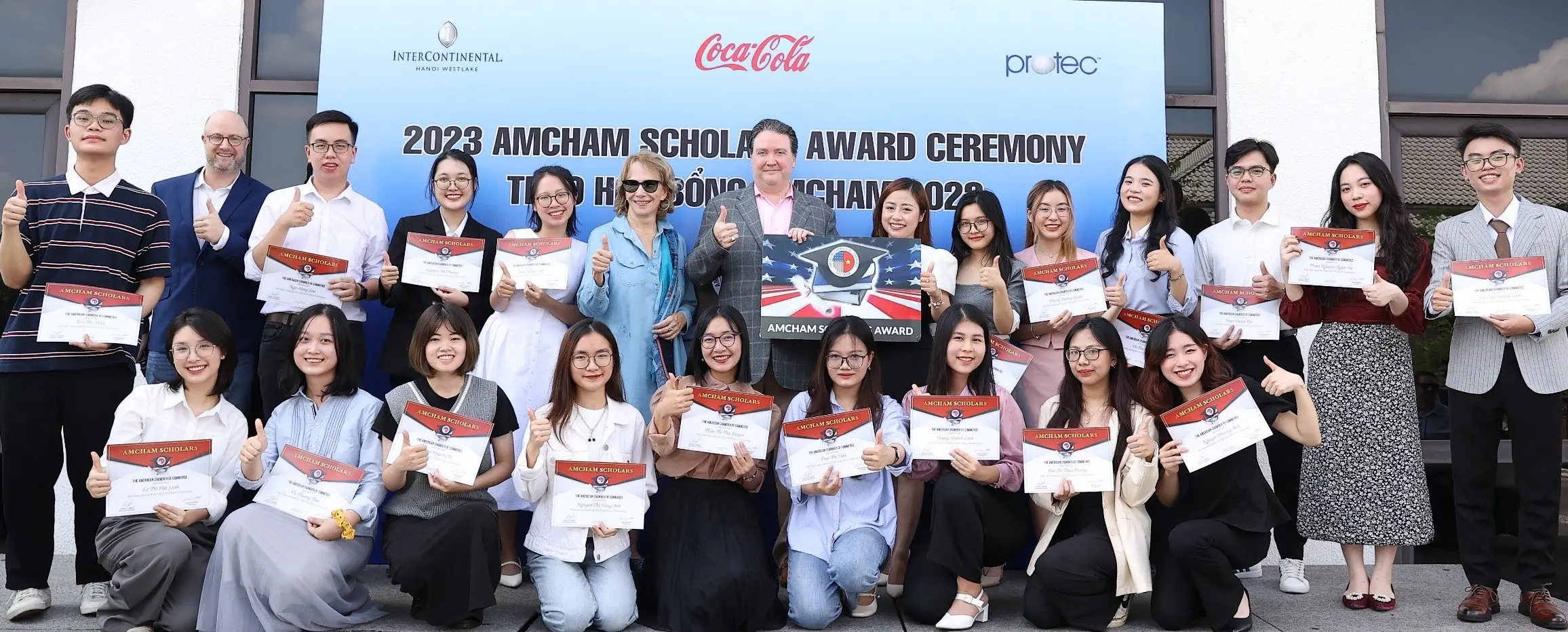 Meeting with PM on Key Issues
AmCham Chair Meets with Prime Minister on Key Issues
A group of AmCham leaders and member companies met with the Prime Minister and his team earlier today to discuss creating favorable conditions for business and investment. During the meeting, AmCham Chair John Rockhold proposed solutions to remove difficulties and help support our members.
AmCham Welcomes President Biden
AmCham Welcomes President Biden to Hanoi
Many AmCham members played key roles in welcoming President Biden on his first visit to Vietnam. During his visit, President Biden said that "Vietnam and the United States are critical partners at this very critical time."
Annual Advocacy Trip to Washington
Annual Advocacy Trip to Washington, DC
Over 40 delegates representing 16 AmChams participated in our annual advocacy trip to Washington, DC. The delegation met with officials from the Biden Administration, journalists, think tanks, and a bipartisan group of Representatives and Senators to advocate for policies to increase trade and investment while also maintaining US leadership in Asia.
AmCham Members Visit US Aircraft Carrier in Danang - copy
Congratulations to Newest AmCham Scholars
We had a very difficult time choosing from the many qualified applicants and tough decisions had to be made. Congratulations to the 20 talented young men and women listed below on becoming our newest AmCham Scholars.
AmCham Workshop on New Policies in the Pharmaceutical Industry
AmCham honored its members' best corporate social responsibility (CSR) programs at a ceremony presided over by United States Ambassador Daniel J. Kritenbrink on December 8.
https://www.amchamhanoi.com/secretary-of-commerce-2019/
US Secretary of Commerce Celebrates AmCham's 25th Anniversary
AmCham Hanoi hosted a reception on November 8 to celebrate its 25th anniversary featuring the United States Secretary of Commerce, Wilbur L Ross, Jr. and a visiting delegation of 17 U.S. companies.


AmCham Organizes First Supplier Day Event in Hanoi - copy
AmCham, in partnership with USAID, VCCI and Vietnam's Private Sector Development Committee, organized the 2019 Supplier Day in Hanoi on April 25. The event featured over 60 exhibitors showcasing their products and services from a variety of industry sectors, including: electronics, metals, textiles and apparel, leather and footwear, furniture and wood processing, auto parts, agribusiness and food/beverage processing, plastics, logistics and transportation, medical, healthcare, hospitality, and other industrial and consumer products.
AmCham Hosts Workshop on Transfer Pricing Issues - copy
AmCham Hosts Workshop on Transfer Pricing Issues
On November 9 in Hanoi, AmCham hosted a workshop to educate stakeholders and the public about transfer pricing. A number of Vietnamese and foreign experts explained why transfer pricing is a legal and normal business practice around the world, including in Vietnam. The workshop brought together government and industry leaders to discuss the rules and methodologies that governments must consider as tax policies evolve.
AmCham Hosts Digital Economy Workshop - copy
AmCham Hosts Digital Economy Workshop
On November 6 in Hanoi, AmCham, in cooperation with the Vietnam E-Commerce Association, the Vietnam Internet Association, the Japanese Chamber of Commerce and Industry, and the European Chamber of Commerce, hosted a workshop to discuss available policy options to boost the impact of the digital economy for economic growth, job creation, and innovation in Vietnam.
Prime Minister Phuc Meets with AmCham to Discuss Bilateral Trade Ties
Prime Minister Phuc Meets with AmCham to Discuss Bilateral Trade Ties

Prime Minister Nguyen Xuan Phuc expressed his wish that US enterprises strong in digital economy will enhance cooperation and transfer technology to Vietnam. The government leader made the statement during a reception in Hanoi on September 10 for AmCham member companies supporting the 2018 US-Vietnam Business Summit.
AmCham Pushes for a Better Business Climate
AmCham Pushes for a Better Business Climate
At the Vietnam Business Forum on July 4 in Hanoi, AmCham Chair Michael Kelly told the government that while AmCham supports the government's effort to link domestic and foreign companies together, our members continue to have challenges dealing with corruption and an over-complicated environment.